Proudly serving Spud Lovers for over 35 years!
Darwin's Original and Best Baked Spuds
We serve freshly baked spuds loaded with our delicious range of signature toppings
You'll find us at Nightcliff Foreshore, Sanctuary Lakes in Gunn, Mindil Beach Sunset Markets and various events across Darwin. 
Now you can get your spud fix for lunch on weekdays!
We've now brought our food truck experience and your favourite baked spuds to the heart of Winnellie. 
You can choose to enjoy your spud in our new air-conditioned dining room, or take away.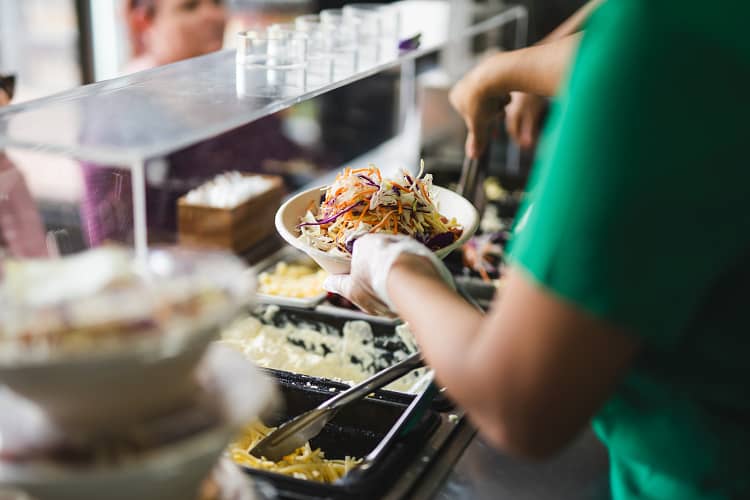 📍  1/34 Benison Road in Winnellie
Monday – Friday
10am – 2pm
We look forward to you joining us for your weekday Spud Day!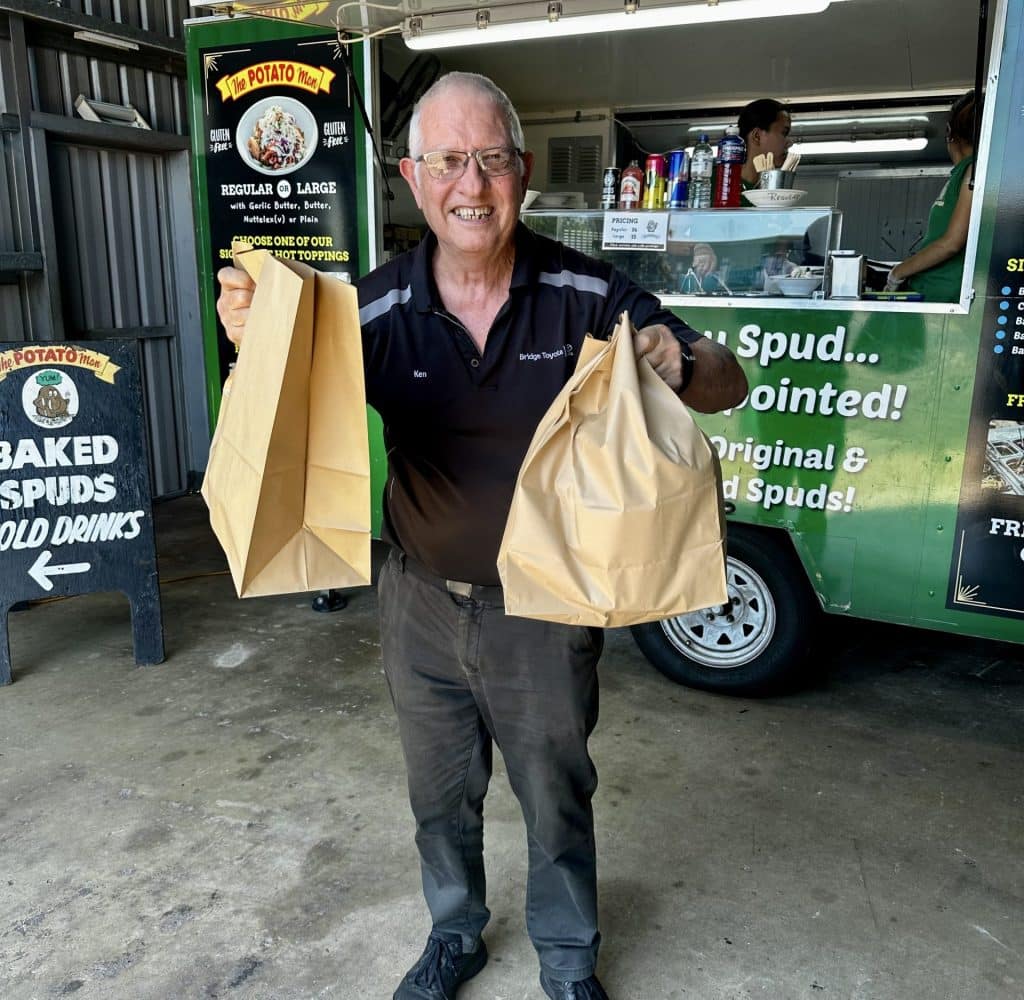 Download our Lunch Order Form
Looking to feed the team and put through a lunch order form? Download our lunch order form below.
One of Darwin's Oldest Traditions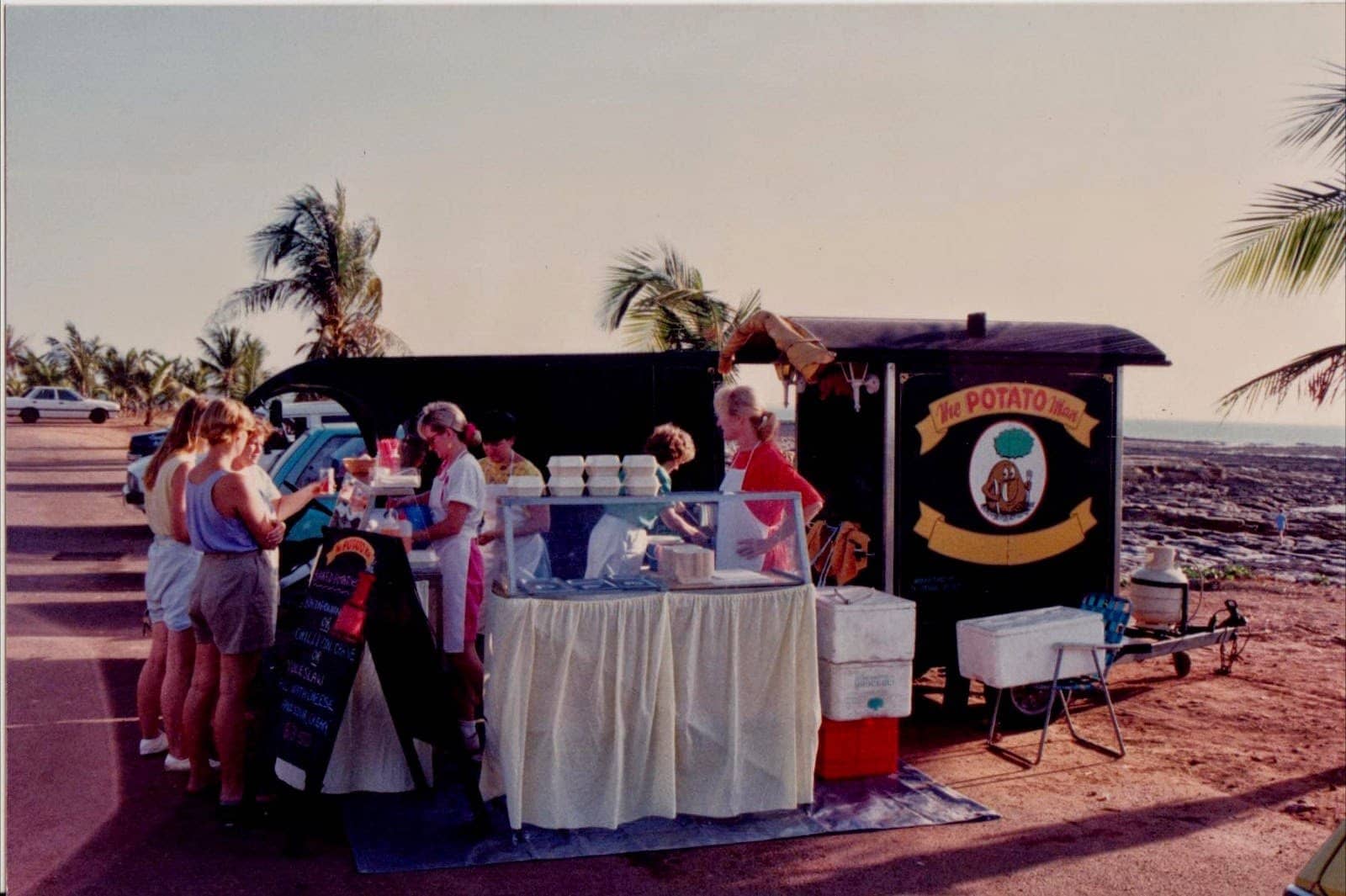 The Potato Man started in 1987 and was one of Darwin's first food trucks. 
Setting up along the Nightcliff boat ramp selling freshly baked spuds with delicious signature toppings. The Potato Man has also been trading since the very beginning of the famous Mindil Beach Sunset Markets
The Potato Man has since become a local legend in the process.
For generations, locals and tourist alike make their way to The Potato Man to enjoy the company of friends and family and a delicious freshly baked spud with all of their favourite toppings, against the backdrop of Darwin's famous sunsets at Nightcliff Foreshore or Mindil Beach Sunset Markets.
If you'd like to know where we are trading, please see above for our current trading locations. We look forward to you joining us for Spud Day!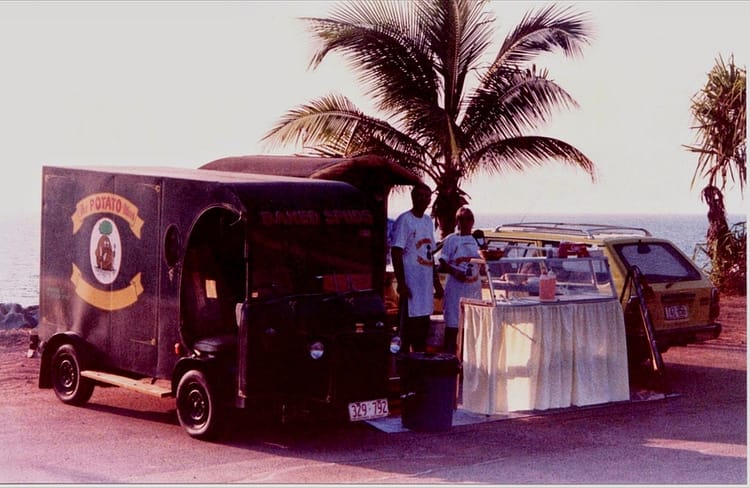 Celebrating over 35 years of serving spud lovers...
In 2022, The Potato Man celebrated it's 35th birthday! We're filled with so much happiness and joy to bring back every single owner we could contact to celebrate this incredible milestone.
From our humble beginnings to where we are now, we couldn't have done it without the support of our amazing customers.
We also donated all proceeds to Variety Kids NT.
Thank you for being a part of our journey and we look forward to serving you for many more years to come!
It's all free!
Gluten Free that is!
Serving generations of spud lovers with our signature menu that has stood the test of time. 
Please note that we now have two menus. One for our Winnellie site and one for our usual mobile food truck.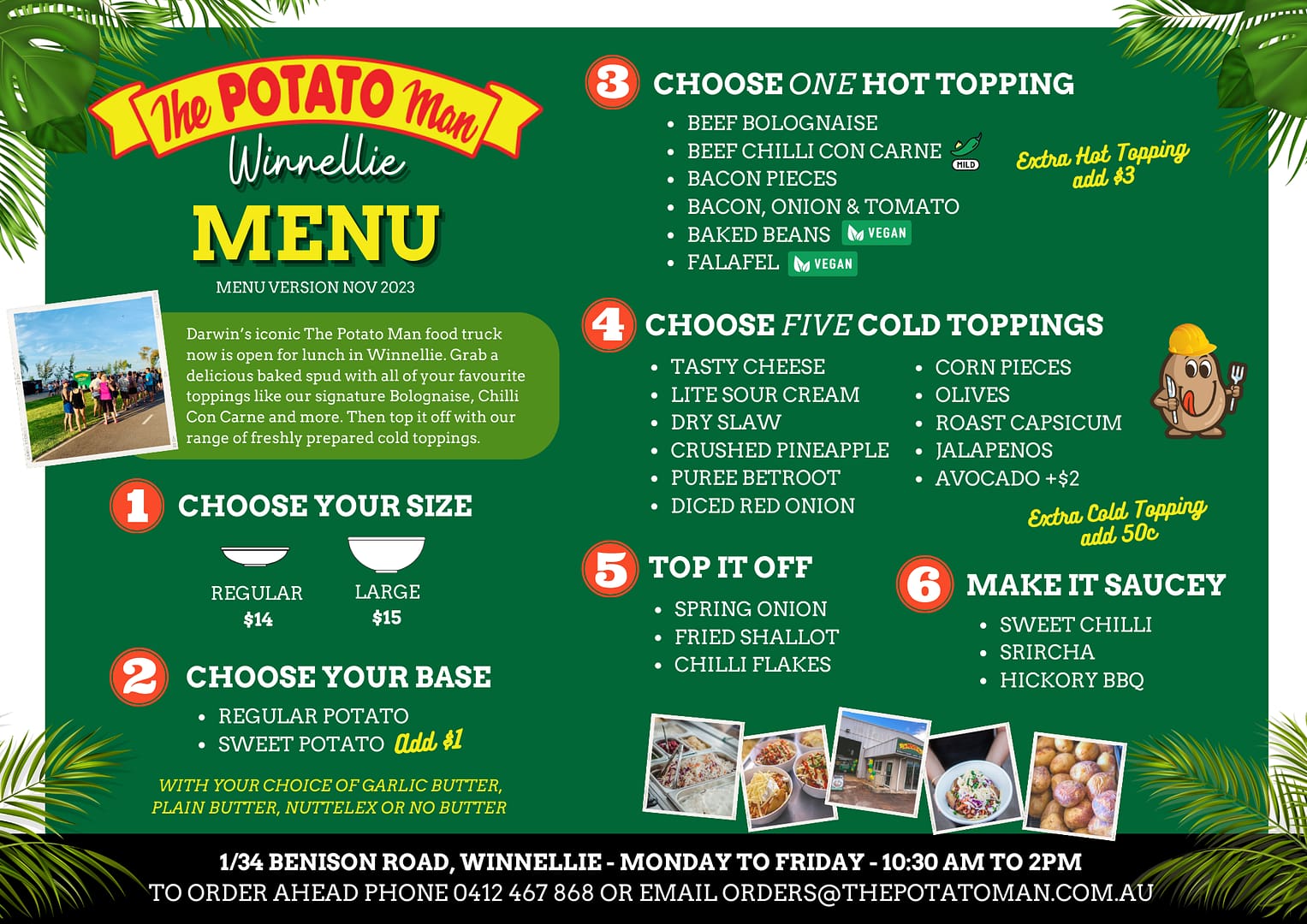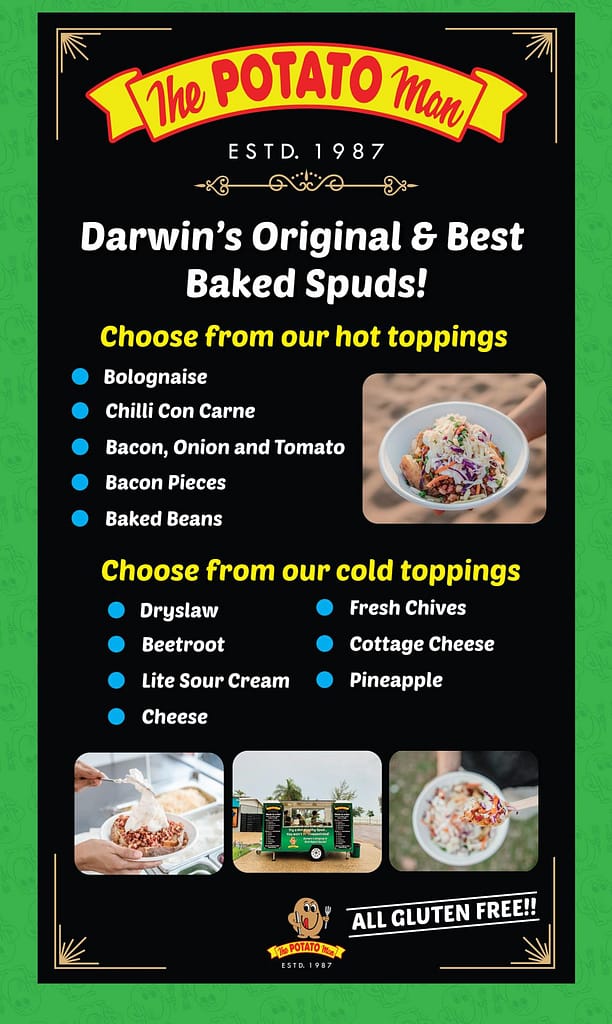 Need to get your spud fix? Here's where you can find us!
 Make sure you follow us on Facebook or Instagram to get the most up to date location information.
📍 1/34 Benison Road in Winnellie
Monday – Friday
10am – 2pm
Wet Season Schedule (NOW)
📍 Sanctuary Lakes Carpark – Gunn
5pm – 7:30pm
📍Nightcliff Foreshore
5pm – 7:30pm
📍 Mindil Beach Sunset Markets
4pm – 9pm
📍 Sanctuary Lakes Carpark – Gunn
5pm – 7:30pm
📍 Nightcliff Foreshore
5pm – 7:30pm
Mindil Beach Sunset Markets
4pm – 9pm
Saturday Sanctuary Lake trades may be affected by Dry Season Events. 
Be sure to check Facebook for the latest trading schedule!
Here's where to find us at
Mindil Beach Sunset Markets
We trade at Mindil Beach Sunset Markets every Thursday and Sunday. However, our Thursday and Sunday location is different.
You will find us closest to the Darwin High School End of the Mindil Beach Sunset Markets.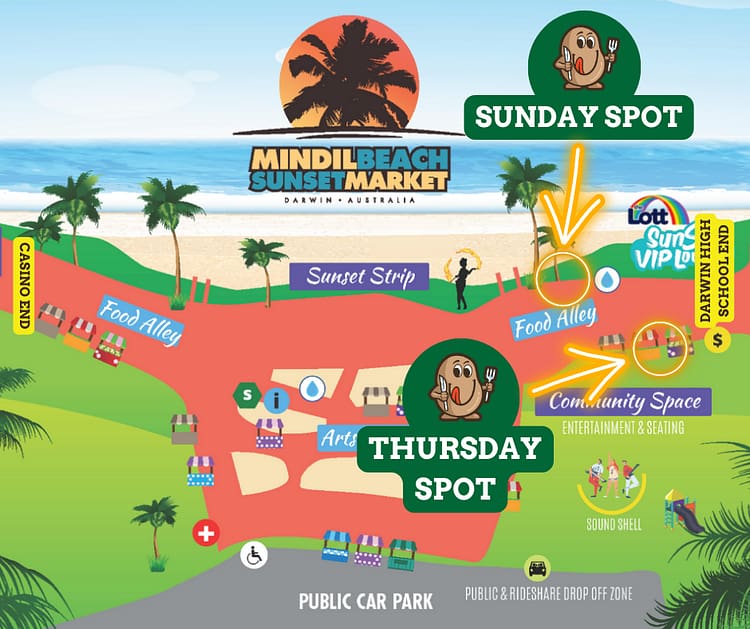 A guaranteed crowd pleaser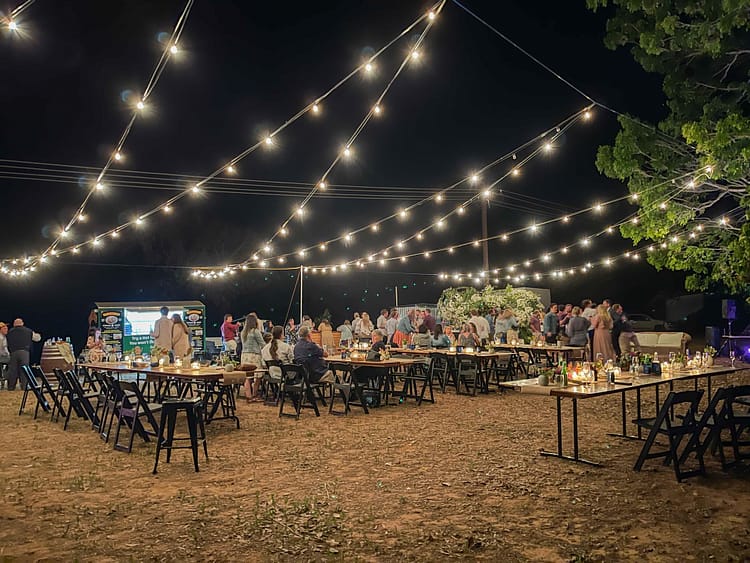 Whether it's a wedding, birthday bash, work function, private event or celebration we'd love to help you make it a success.
Enquire using our form below. Minimum bookings of 80 people apply.
Almost fully booked for 2024!

Enquire now to avoid disappointment!
Everything we do… We do it for you
At The Potato Man, our customers are at the heart of everything we do. 
From choosing the best quality local ingredients that go into our signature toppings, to delivering good old fashioned customer service. 
We aim to deliver. Each and every time you visit us.
Supporting the community
that supports us!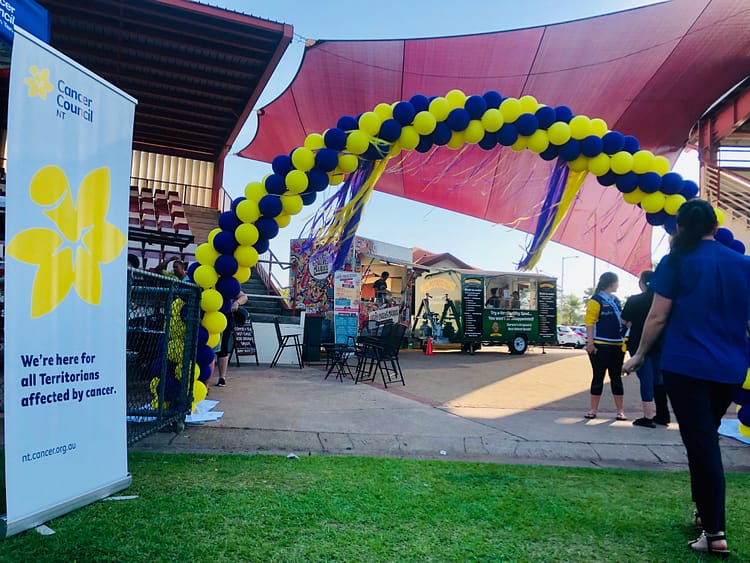 We're committed to the community that we've been a part of for more than 35 years. We've donated to Bushfire Relief, Relay for life and the Starlight Foundation – causes close to our heart.
We've proudly donated over
to the community since 2017
You have questions.
We have answers.
We've put together a list of our most Frequently Asked Questions.
If you don't see your question below get in touch!
Say hello, we love to chat!
Please fill in the form below or get in touch with us on Social Media